We're so excited to (officially) welcome Amy Chen, our new COO, to our team of UPSIDERS.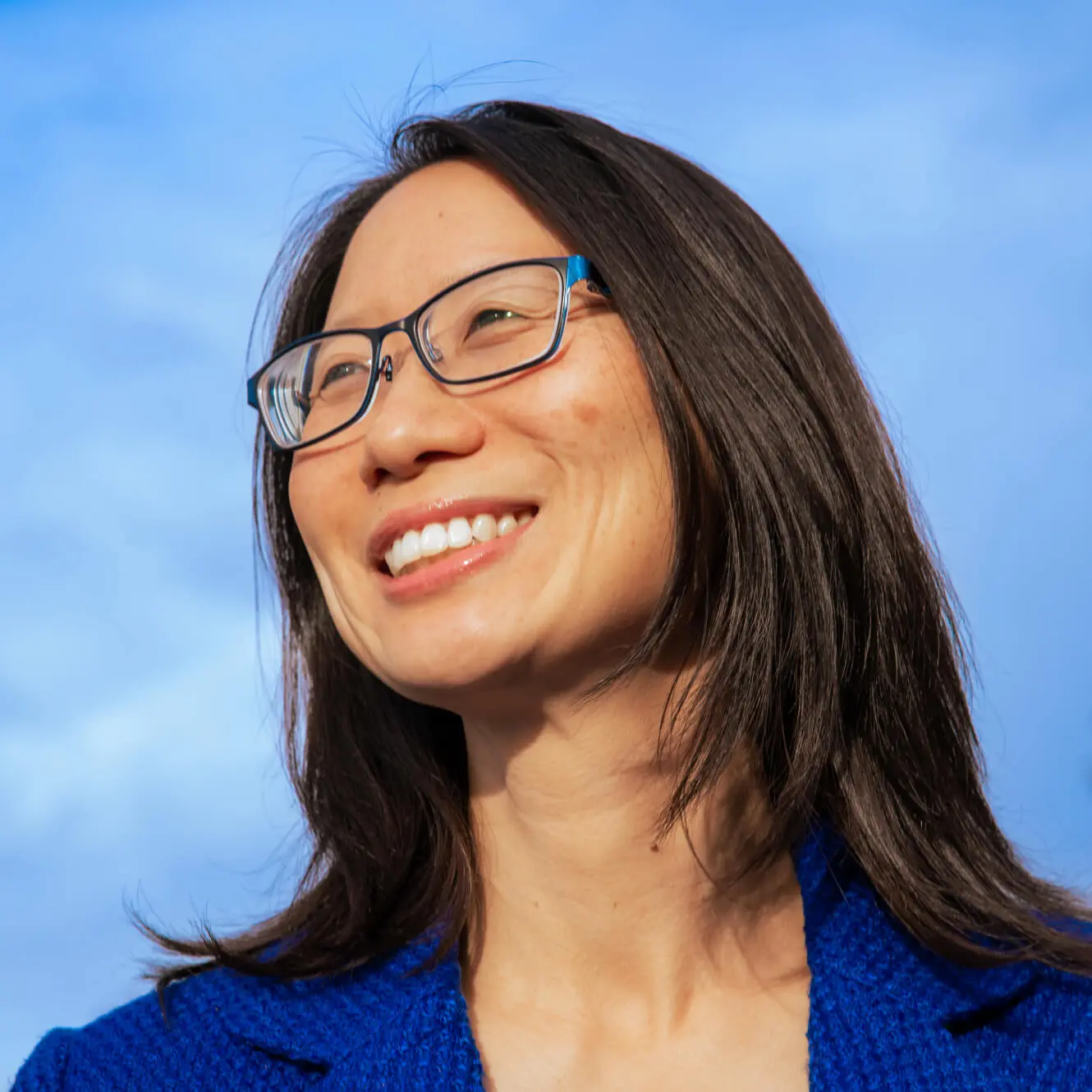 Amy brings extensive experience from the food industry, having spent almost 15 years at PepsiCo in various roles, from innovation and marketing to sales and operations.
After graduating from Harvard with a degree in chemistry, Amy joined McKinsey as a strategy consultant before returning to Stanford for dual graduate degrees in law and business. She then joined PepsiCo, where she most recently served as Chief Marketing Officer of PepsiCo Snacks in Greater China and as Senior Vice President at PepsiCo Beverages North America. In addition to her commercial accomplishments at the company, Amy also co-founded and launched Food For Good, a social enterprise within the company focused on childhood hunger.
Amy has been heads down at UPSIDE Foods for the last few months, where she has been instrumental in our rebrand from Memphis Meats to UPSIDE Foods and our transformation into a commercial and consumer organization.
Science journalist Monique Brouillette recently sat down with Amy to learn why she's always been passionate about businesses being a force for good and why she's excited to change the way we eat meat in her new role at UPSIDE Foods.
MB: What are you looking forward to the most in joining the team at UPSIDE Foods?
AC: I'm thrilled to be joining Uma (our CEO) and the UPSIDE team as we transform the food system and the way that meat is made. The scale and scope of the impact we can have is tremendous. Roger Enrico, the former chairman of PepsiCo, was known for saying that you should spend time making "big changes to big things", and I'm excited to be doing just that. Uma is an incredible visionary, and we've already built a strong partnership and friendship in a short period of time. I'm excited for all that lies ahead of us!
MB: You've previously described yourself as an "intrapreneur." What does that mean?
AC: An "intrapreneur" is someone who figures out how to change systems from the inside out. Early in my career, I fell in love with the potential of business to be a force for good. When you think about the scale at which businesses operate in our society, moving things one degree can change the world in massive ways. At PepsiCo, I learned the ins and outs of running a complex operating business, leading big teams, and finding creative ways to drive new thinking and change from the inside of a big company.
MB: You have had such an interesting career working inside massive companies like PepsiCo. I am curious which of your accomplishments you are most proud of.
AC: What I love most is building culture and rallying teams to achieve big goals that seem impossible until they become reality – and having a lot of fun in the process. That means building a culture that helps everyone give their best and be their best. It's been the "secret sauce" throughout my career, whether I'm leading a social impact initiative like Food For Good, a sales operations team in Philadelphia or a marketing team in Asia. People want to be respected, valued, heard and empowered; and when you as a leader can figure out how to set strategy and vision, remove obstacles, and then get out of the way, amazing things happen!
MB: What is your advice to others looking to create social impact from within their organization?
AC: First of all, do it! The world needs more people who are expansive about their thinking. Business doesn't have to be a zero-sum game. There are plenty of examples where things that are good for business are good for the world, whether it's renewable energy, prioritizing employee health and safety, or what we're doing at UPSIDE Foods to change the food system for the better. The real magic comes when you can find ways to deliver value to shareholders by making the world better.
MB: What are the biggest roadblocks you've encountered in trying to drive change?
AC: The biggest challenge is the stickiness of the status quo. Too often, we assume that the way things are is the way they have to be. It requires a tremendous amount of curiosity, as well as determination–and stubbornness–to continue asking the "why". Why do things have to be this way? Why couldn't they be done differently? And why not start that change with me, today?
MB: Tell us something interesting about you that we can't find on your resume.
AC: I was allergic to chocolate as a child. But I loved (and still love) chocolate, so I trained myself out of the allergy by eating a little bit at a time, from a single chocolate chip to a full chocolate cake! Some people have told me it's a good indication of how stubborn and determined I am!